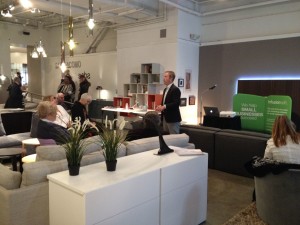 Audiovisual rentals for High Point Market are a top priority for AV Connections, Inc. every fall and this year is no different. From October 22 through 27th we are busy preparing booths, seminar areas, and trade sales floors at 220 Elm in High Point, NC to host the interior design world. 220 Elm is turned into a technological showplace for this event twice yearly and is ground zero for home entertainment industry market sales. High Point Market's March and October sessions take up ten buildings in the city of High Point, NC – the undisputed home of interior design presentation in the United States – and we are pleased to partner with many presenting businesses and concerns to brief the industry in the ever-fresh and quickly-moving home entertainment market.
Our trade show audiovisual technicians were on hand with several customer clients to create memorable, impactful booths and seminars to sell their products and leave the attendees with a cannot-leave-without-this-technology impression. After all, when you want to present great technology, you should have a great audio visual firm backing up your work.
Jay Seawall of our technology group helped to fill us in on the AV rentals work during High Point this fall:
"We returned again this year as a primary vendor of AV needs to several clients over the course of the High Point Furniture Market. Ranging from seminars to showroom displays, we saw plenty of sound systems, mounted TV's, quick setup screen and projector packages, and computers for presentations and media playback in order to help sell an industry on the forefront of contemporary design with equally modern demands in the world of AV home entertainment. The primary housing of the week's ventures, 220 Elm, hosted four seminars; each one saw a lightning fast set up and tear down as the space required flipping to accommodate use of the various showrooms before and after each seminar.
"We utilized a mobile cart solution that held wireless mics, a mixer, projection equipment, and two speakers in order to make this happen. Also, several showrooms featured video playback and presentation slides on our flatscreen LED TV's, making the presentation feel right at home in a typical living room setup. AV Connections is proud to provide services that benefit the ages old industry of furniture making right in our backyard in High Point, NC."