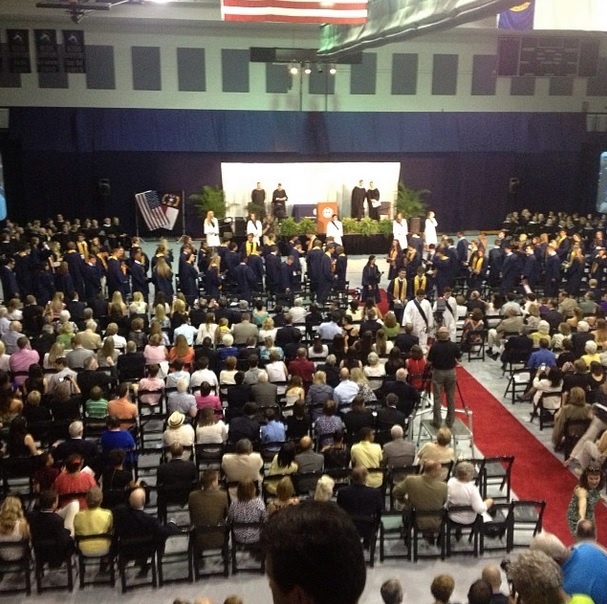 We provide many schools, colleges, and universities with graduation AV rentals in the Charlotte, Raleigh, and Winston-Salem, NC areas. And we were so pleased to be the audio visual rentals supplier selected to stage the Forsyth Day School's graduation in Lewisville, NC.
AV Connections has provided graduation ceremony audio visual rentals, staging, and technicians for schools across North Carolina and Virginia for 29 years. We have proudly developed long standing relationships with so many schools that May, June and January each year always feel as though batons are passing around us for weeks. We've watched literally hundreds of thousands of graduates receive diplomas and degrees. From small private schools on up to state university graduations: AV Connections, Inc. has been there to run the microphones and big screen projections to the crowds in attendance on these happiest days. It is always fulfilling work day for us. Our attention to the success of these events goes so far past just making sure the ceremony went smoothly. we know we are charged with being sure they remember their last moments together as a class. We take their achievements from the past few years and their memories of these ceremonies seriously and to heart. AV Connections, Inc will never fail them, just as they did not fail the graduation guests around them at that moment. Graduation AV rentals are a big job, one we're glad to do for so many schools across our home state of NC.
We set and tore down these NC AV equipment rentals and sent an AV technician from our event AV group to manage the job for the graduation ceremony:
9′ x 12′ fast-fold screens (Rear) with Dress Kits
Hitachi CP-X809 (5k) LCD Projector
Liko with c-clamp
Ultimate light stand & T-Bar with 4 par cans
Follow Spotlight
100′ snake & 6- 25′ mic. Cables & 9 50′ mic Cables
JBL EON 15 Powered Speaker
Multi-Media Specialist (Spotlight Operator)
Shure Hand Held Microphone Shure Beta 58A w/ BOOM STAND
Lightign control board and dimmer pack
Black (9′-16′ height) pipe & drape
We wish the 2014 graduates of the Forsyth Day School congratulations and best wishes on their path to continuing education! It was a great day providing graduation AV rentals for this wonderful class and their attendees.