AV Connections, Inc. is the leader in audio visual rentals for conferences, meetings, special events, and weddings in North Carolina and Virginia.
Audio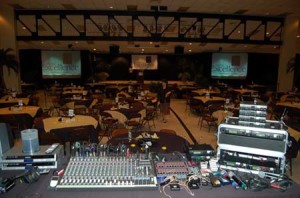 At AV Connections, great sound is a must and we will not stop until every pop, squeak, or scratch is effectively eliminated. For our technicians, sound is an art and they strive to ensure it is a pleasurable audible experience for everyone involved. To be a successful audio company, you need the proper high quality gear and technicians who are passionate about what they do. Fortunately we have been providing both for 30 years and will continue to do so for every show, conference, meeting, wedding, or concert that comes our way.
Performance Vocal & Instrumental Microphones
Wireless Handheld, Lavalier, and Headset Microphones
Digital Recording and Playback Decks
Sound Systems, PA Speakers/Sound Reinforcement for Large & Small Venues
Computerized Delegate Microphone Systems
Mixer, Equalizers, Compressors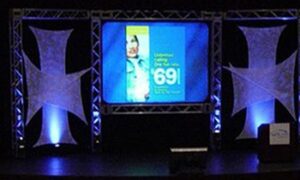 Video
So much of how your message is portrayed and presented to your audience is done through visual media. From the moment your guests walk through the door, we will endeavor to stimulate their visual senses, helping to create a memorable experience.
With the latest, cutting edge video technology and a knowledgeable staff, AV Connections, Inc.can help you create the visual impact you desire to make your event outstanding. From multi-screen, HD format projection, to live video production switching and recording, we've got you covered. With AV Connections, Inc.on your side, you can rest assured that your message with be seen.
LCD and DLP Projectors
Mini DV & HD Video Cameras
Large Flat-Screen LCD, LED, & Plasma Monitors
Production Switching & Recording Equipment
Laptops & Computer Accessories

Lighting
Whether stepping onto a stage to make that crucial presentation, or walking up to the podium to give a moving speech, you don't want to be left in the dark. So much of what brings an entire event together is accomplished through creative and effective lighting.
With the access to an inventory full of a wide variety of lighting fixtures, dimmers, and controls, AV Connections, Inc.will add that final touch to your event that makes it memorable and exciting. From a simple stage wash, to a full stage production with intelligent moving fixtures, an intricate truss structure, and computerized programming, AV Connections, Inc.can handle all of your lighting needs.
Stage Lighting (Lekos & Par Cans)
Programmable LED & Intelligent Lighting
Dimming & Control Consoles
Event Accent & Decorative Lighting and Design
Wedding and Specialty Lighting
Trussing & Chain Motors