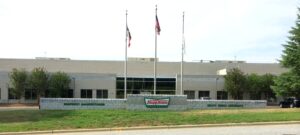 AV Connections, Inc. was happy to provide a professional rental audio visual solution for another business also headquartered in Winston Salem, NC for their Summer marketing campaign launch event. Krispy Kreme has called Winston Salem home since 1937, and their corporate office looked to AV Connections to make sure their entire workforce would be heard loud and clear as they gathered in their auditorium space.
Krispy Kreme University, where this meeting was held, is a conference and training center on the Krispy Kreme campus in Winston-Salem, NC. A center for corporate excellence, it is a daily location for various trainings. On this particular day, a larger group was expected and consequently our large AV set up was needed to be sure the message was effectively communicated to all participants.
We provided a modular system which allowed us to go row by row, seat by seat to make sure the program experience was heard equally well by everyone in the room. Afterwards, a company representative pulled our audio technician aside asking about the details for installing this type of system permanently in their meeting space. We're absolutely thrilled to hear our services made such a good impression that they've decided to implement our system design permanently!