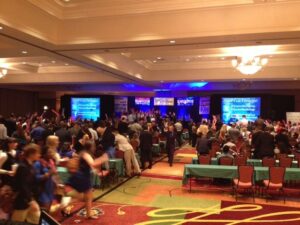 AV Connections, Inc. is pleased to be back in Florida this week, traveling with a twice yearly national conference and meeting; We provide the conference audio visual in Florida to this national conference of more than one thousand attendees. we are pleased to have served conference audio visual clients in Florida as well as NC, SC, FL, and GA. Our Conference Technology group is often on the road to locations across the southern united States to serve new and long-term return conference customers. This week are thrilled to be in St. Augustine, Florida where, as you can see, we've see up AV for this national sales meeting which will really get these sales representatives up, moving, and excited.
The Conference Technology Group has traveled from both our Corporate Headquarters and our southern branch office to set up, stage, produce, and tear down this size-able national conference for Vector Marketing.
On this job site, some the equipment our AV Technicians are travelling with will be:
Multiple 9×12 rear projection screens
Hitachi 809 projectors
Yamaha mixer
Shure wireless microphones
Extron 506 switcher
Multiple Extron vtt/vtr
Multiple Chauvet Colorado 2 led lights
Multiple JBL 700 speakers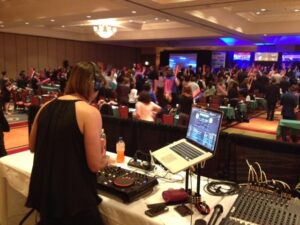 We look forward to working with Carey and the meeting planners for this group again in 2015, and we've had a great week in St. Augustine!