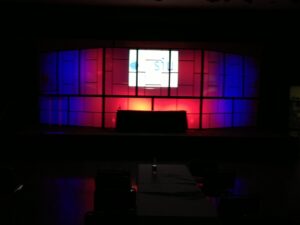 NC sales meeting audiovisual: Let's create something extraordinary for your sales meeting. This photo is a great example: We have worked with this client for many years and each of their sales meeting backdrops are custom built by our NC sales meeting audiovisual NC sales meeting audiovisual group.
The goal is to make their stage and presentation exciting and attention-grabbing while not distracting from the relevance of the presentation message. This design combines a great format for presenting their products highlighted by our talent for great lighting. When they were presented with this design they were thrilled. As we are challenged to create new AV and lighting designs to augment their yearly presentation, we continue to press forward the technology available to us. We're partners to this client AV design, presentation, and economy. We want to bring them back each year with ever-greater options and a continuing attention to maintaining presentation excellence and their conference budget.
We look forward to creating great NC sales meeting audiovisual presentations for your conference or meeting. Let's talk about how your North Carolina conference AV can be both impactful and affordable.