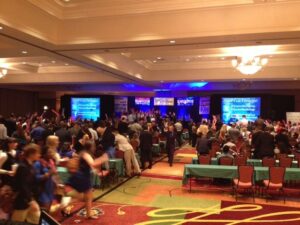 NC conference technology rentals by AV Connections, Inc. of North Carolina will complete your impactful conference or meeting presentation. You've created a great sales or informative presentation and now it needs you to walk your guests through the concept and it needs AV Connections, Inc. to get your message across flawlessly. Hours have been spent developing a thorough and incredible presentation; don't take chances with AV technology on which it is run.
AV Connections' NC conference technology rentals group has a huge inventory of new and impeccably maintained audiovisual presentation technology in inventory. The inventory is constantly reviewed and updated to be sure our clients conferences and meetings are astep about their competitors. We are not willing to take chances with your reputation or our own. We will be prepared, professional, and on time with NC's best kept AV inventory. We have been in business for thirty years in North Carolina and added branch offices throughout the southeast as we have grown. We continue to be a family-owned and operated company at each of our branches, with new generations taking the helm over new offices. Our culture of excellence runs through them and the length of our success speaks to our commitment to build long term relationships with our NC conference technology rental clients and customers.
We look forward to assisting you with you next conference or meeting. Before you select an in-house AV contract at a hotel or conference center, allow us to provide you our pricing. Contact us with questions or RFP's at avrentals@avconnectionsusa.com. We will pleased to work with you on conference audiovisual or event lighting rentals.