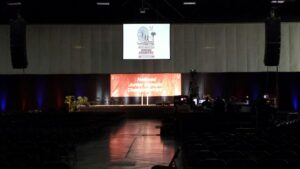 National sales meeting AV by AV Connections, Inc. is our largest business, we travel with many repeat clients each year around the nation and internationally to provide national sales meeting AV rentals and technical teams.
A sales meeting is the once or twice yearly opportunity to introduce new products and get your sales members excited to sell. You want to keep your AV rentals cost down but at the same time, get your message across clearly. You need to add some impressive elements to your presentation the same as it is a good idea to add some impressive, memorable elements to your sales meeting. Our national sales meeting AV group will help you to have a problem-free sales meeting or conference. We will make suggestions based on your site to add layers of visual texture to your meeting. Perhaps uplighting or color gel lights, even custom designed gobo lights with your company logo can be elegant and appropriate. It is always a question of the right design at the right time and it is this at which our professional national sales meeting AV.
National sales meeting AV by AV Connections, Inc. is made better and easier for you by our commitment to excellence, customer service, and helping to manage costs and maximize your budget. We will be your best national sales meeting AV partners. Contact us at avrentals@avconnectionusa.com or 336-768-5454.