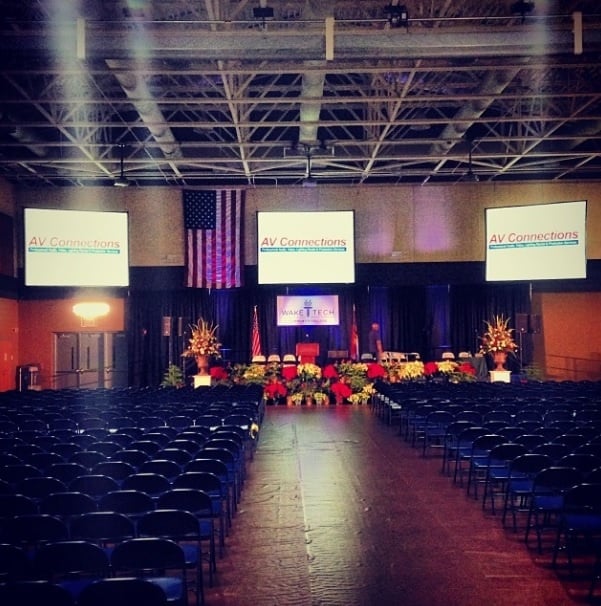 Here is another great graduation with Wake Tech where we provided commencement audio visual and lighting for the mid-semester ceremonies. We love being the commencement audio visual supplier for these happy occasions.
We at AV Connections, Inc. are proud to say we watch literally thousands of new graduates receive their degrees and diplomas each year, then toss their mortar boards, and enter the post-graduate universe. We are standing by to be sure every speaker is well and easily seen and heard. It is so important to hire a flawless vendor like AV Connections, Inc. for commencement audio visual. Graduation will be the last time a class stands together, listens together, and celebrates together. We are there to make sure their last moments as a class, and under the care of your school, are perfect for them.
AV Connections, Inc. provides national commencement audio visual and lighting services for every type of graduation: From small private schools to large universities with multiple graduations over several days. No commencement is too small nor too big. We want to be there to help, to steel their memories of their last times together, and to get those graduates off on the right foot. We'll deliver those last messages to your students, make sure their name rings clear to their family as they walk across the stage, and make it memorable for every day to come.
AV Connections, Inc. welcomes all inquiries for all schools, colleges, and universities for any and all help with audio visual and light rentals and staging needs. Do not hesitate to get in touch, we're ready to compete. Call us at 336-768-5454 or email at avrentals@avconnectionsusa.com.