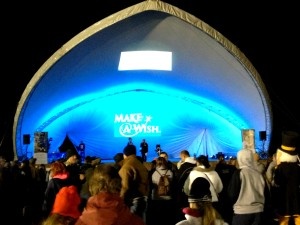 A chill in the air brought a great event lighting rental NC happening for AV Connections, Inc. We were honored to be the event lighting rentals NC vendor and sponsor for the Eastern North Carolina Make-A-Wish Foundation's Tanglewood Walk for Wishes. AV Connections; North Carolina branch provided presentation audio, LED stage lighting rentals, and a custom Gobo graphic overhead in the amphitheater.
To date the Walk for Wishes has raised $153,000 for eastern North Carolina's children. The event had huge attendance which will help to keep Make-A-Wish generating good days for children for the next year. We were lucky to have a beautiful cool night for this outdoor event. This was the fifth year for the Walk-for-Wishes at Tanglewood Park in our hometown, Winston-Salem, NC. The 5K walk takes participants through the legendary Tanglewood Festival of Lights – a great way to get some exercise, raise money for a great cause, and do it all under the seasonal light displays in the park.
Everyone in attendance is looking forward to Walk For Wishes 2015 and we are looking forward to helping Make-A-Wish raise more money for their comforting work. we will see you at Tanglewood in 2015 for this important charity event.