We love the chance to provide corporate event audio visual staging and production, especially for our amazing clients at BB&T Bank's corporate offices in Winston-Salem, North Carolina!
What a fantastic event this was: Hundreds of associates and their families, great live music and carolers, gorgeous holiday food and nibbles, and endless beautiful holiday decor. We were pleased to be the BB&T Corporate Holiday Party audiovisual suppliers again this year and are grateful for our long-time relationship the bank; another North Carolina business, like ourselves.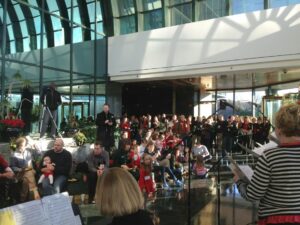 We set up HD screens and audio at BB&T's Headquarters around the atrium to be sure all the guests got in the holiday spirit. It is a soaring, enormous, and stunning room and BB&T wanted to make sure no one missed a beat, literally. Just a great party for the associates of a great company and we couldn't be more happy to be the audio visual vendor on site. Happy holiday's and the happiest of New Year's for 2014. We look forward to working with all of you again soon!