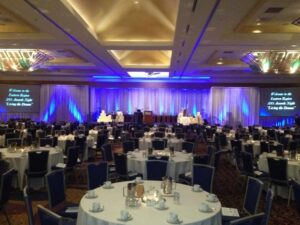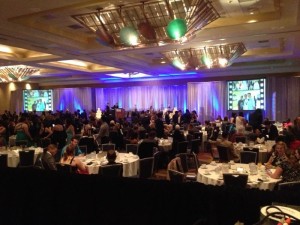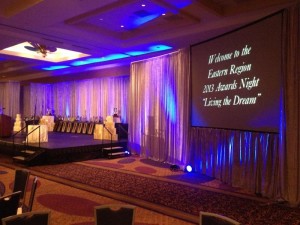 We are thrilled to be providing the corporate conference audiovisual and lighting for the Vector Marketing summit at the Sheraton Downtown Atlant Hotel and Convention Center this week. This large-scale national conference has brought together our teams from our North and South Carolina branches of AV Connections. We met up in Atlanta, GA to get rolling together on the corporate conference audiovisual. After a night of loading in and a full day of set up, you see the incredible results!
Thousands of corporate conference and meeting attendees were treated to top-line event technology presentations on our innovative corporate conference audiovisual technology.
On site for our equipment were:
JBL speakers
Yamaha audio mixers
Shure wireless microphones
Sanyo projectors
Extron 506 switchers
Tascam DVD players
9×12 rear surface screens
7.5×10 rear surface screens
Here is an inside look at the night of on-site loading and a little of our set up early on the job:
Vector Marketing is an amazing client and we were pleased to be the conference audiovisual and lighting vendor of choice for their presentations and events. It was a great week in Atlanta, GA (which was actually kind of chilly for Hot-lanta) and we look forward to returning for Vector, the convention center, and other Atlanta, GA clients soon.
For all your conference audiovisual and lighting needs in Atlanta, GA, as well as SC and FL. AV Connections should be your first call. We are budget savvy, customer-service driven, and have thirty years experience in hotel and convention center audiovisual and lighting. Once AV Connections has been one ajob for you, we'll always be your first and last call. Quality is the only way.