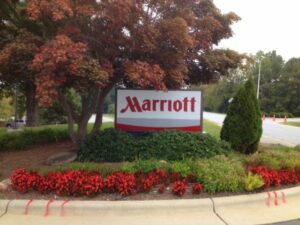 We were pleased to provide conference audio visual for the North Carolina Bankers Association's conference at the Greensboro Airport Marriott this past week.
We brought these equipment items along to the hotel conference with us:
Extron 506 switcher
Shure wireless microphones
We also provided a technician to support the conference audio visual rentals to be sure the meeting went smoothly. If you can do it, it is always best to include in your planning the presence of an experienced technician on hand. Our technicians arrive on time, completely prepared, and are willing to go the extra mile to be sure the meeting's oratory and visual collateral are perfectly presented.
It was another seamless day of presentations with our great conference audio visual! We're looking forward to seeing our friends at the Greensboro High Point Airport Marriott and these great clients again soon!
If you are planning a conference in North Carolina or anywhere in the United States or Caribbean, get in touch with AV Connections, Inc. for a quote!