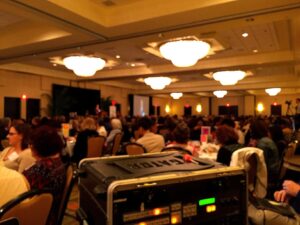 One of our best local meeting venues was back in action with our AV rentals in Greensboro at the Greensboro Marriott. Our presentation technology team was glad to provide rentals and technicians for the recent Guilford Child Development Luncheon in Greensboro, NC near our corporate hometown, Winston-Salem, NC.
AV Connections, Inc.'s President and CEO Brad Luckhart was pleased to receive this kind note from our meeting client on this day. We are always actively pursuing feedback after audiovisual rental jobs; part of our culture of excellence – and we are heartened our hard work behind the scenes pays off when our team members are recognized for their commitment. In this case, Trent and Kent, technical team members, were as always, star team players for this customer. The meeting planner noted so below with our great thanks:
Brad,
Trent and Kent were absolutely fantastic! I am very pleased with their work, and grateful to Ron Platt for recommending your company for this task. Trent and Kent are a tribute to you and your company. THANK YOU!
With regard to the mission of the charity holding this luncheon, it is also important to note how critical their role in supporting the children of Guildford County, North Carolina is on a daily basis. Guilford Child Development is a multi-faceted organization dedicated to creating an community where children are valued, nurtured, and fed. Perhaps it is easy for many of us, blessed as we are, to take for granted healthy hot meals and people with whom to read a book, but the need for caring for economically challenged children is real and with a moment of all our homes. Resources, medicine, food, literacy, and head start for success are all the tenets pursued by GDC. We remain grateful and moved by their work which is both vast and robust on behalf of the young lives in the care of this community.