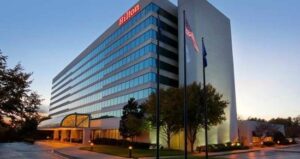 AV Connections is pleased to be the most trusted AV rentals Greenville NC vendor. This week we have been on-site at Hilton Greenville NC providing audio visual rentals and staging at the hotel. Our clients were a major national focus group marketing firm. Arriving in Greenville, NC to conduct two days with of focus groups, AV Connections, Inc was their choice to provide hotel conference AV rentals for their Greenville meetings.
Like many experienced hotel and meeting planners, our firm knows that it is far more efficient to contact an outside AV firm in Greenville NC to collect estimates from other audio visual providers besides those one-site at the hotel or conference center. Hotels and conference center put enormous premiums on every service they generate for the conference or meeting. Like your $6 morning coffee in a hotel, conference and meeting audio visual rentals work the same way. What might be $100 from an outside AV rental company in Greenville, might be $600 from the on-site AV vendor. It is best to check around and get bids or estimates as your process dictates. The more planning a professional does of meetings or conferences, the more they know that shopping around keeps money in their company's hands.
AV Connections, Inc. is the most trusted audio visual rental company in North Carolina, in business successfully for twenty-nine years and counting. We are dedicated to customer service. We will be there on time, prepared, and with technicians whose knowledge of event and conference technology is unsurpassed in North Carolina. We are of one mind when it comes to our work: Excellence is the only option.
Audiovisual inventory items required for this job site and available for rental in NC from AV Connections, Inc. were:
Hitachi CP-X2511 (2.7k) LCD Projector
1 1.0 6 'x 8' Fast-Fold Screen (Front Surface)
1 1.0 Extron DVS 406 Switcher/Scaler
2 1.0 Sony 3 CCD Mini DV Camcorder
1 1.0 Yamaha MG 12 ch Mixer
1 1.0 Shure UHF Wireless Lavalier Microphone System
2 1.0 JBL 12″ Powered Speaker 1000 Watt
8 1.0 PZM MICROPHONE
2 1.0 Intercom System/Station
2 1.0 Video Distribution Amp.
2 1.0 Sharp LC-60LE450U 60″ LCD Monitor
1 1.0 Yamaha MG166C Mixer
2 1.0 JBL 12″ Powered Speaker 1000 Watt
2 1.0 Panasonic DVD Recorder
In addition, AV Connections, Inc also provided these conference professionals to manage the job site and run the AV and video for the focus groups:
Multimedia audio visual Specialist
Video Technician Cameraman