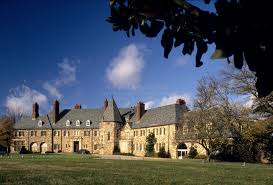 One of the most picturesque and extraordinary locations for gatherings in North Carolina is nearby our headquarters; AV Connections, Inc. is pleased to provide AV rentals at Graylyn Conference Center. Graylyn Estate is a also a premier and beautiful location for a spectacular wedding and we are always pleased to provide wedding lighting design on the property as well.
The elegant and historic Graylyn is steeped in great design and memorable vistas across the 55 acre property for special events. It is maintained as a conference center and event venue by Wake Forest University here in our corporate hometown, Winston-Salem, NC. Built by the Bowman family, decendents of the RJ Reynolds tobacco founders, Graylyn changed hands a few times and hand several memorable roles in Winston-Salem, NC before becoming the world-class conference center it is today.
Meeting planners organizing conferences in North Carolina are encouraged to visit Graylyn and be assured there is no more a spectacular conference venue in Winston-Salem. AV Connections, Inc. is pleased to be an audio visual and lighting preferred vendor at Graylyn. We welcome all inquiries for AV rentals, set up, and wedding lighting at Graylyn.