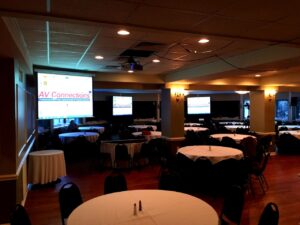 We are also pleased when our business takes us back to Blowing Rock NC to provide av in western NC. Western North Carolina, which is not far from our home office and where our company was founded in Winston-Salem, NC is one of our favorite yearly stops in our conference rotation. AV Connections, Inc. has enjoyed the same return clients for conference AV year after year. We get back to Blowing Rock twice a year at least and it's with great pleasure that we get to work with the team at Meadowbrook Inn and Conference Center.
This month we returned to provide av in western NC for a regional nursing conference held jointly by Wake Forest University Health and it's affiliated partners. This year, the conference was so well attended we also set up AV in overflow rooms in order to make room for all of the conference attendees. These small rooms and audiovisual delivered to them is both necessary and appreciated; it makes a comfortable place to absorb information. It is far preferable to asking too many people to try to take notes elbow to elbow in a packed conference room. If you want to be as well attended next year, this courtesy is an important one. Especially when conference guests have to spend an entire day listening, this helps with concentration and patience.
All together another great year with NWAHEC's conference. We look forward to creating another effective conference for them next year.