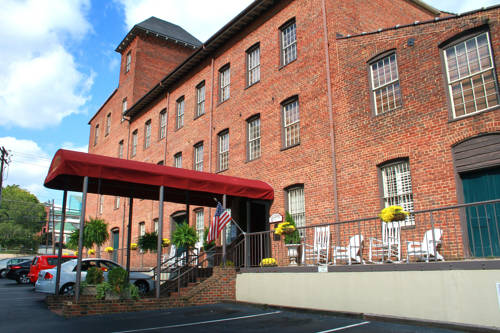 We've recently had another great visit to Brookstown Inn, one of the many places AV Connections, Inc. provides AV for hotels and conferences in Winston-Salem NC. Av Connections, Inc. is proud to have enjoyed a long relationship with the incredible Brookstown Inn in Winston-Salem, NC. Most recently, we've provided meeting video rentals for a guest conference at the Brookstown Inn. AV Connections, Inc. of Winston-Salem provided LCD projection for conference presentations at the hotel.
If you are looking for a conference venue in North Carolina, we could not recommend a better location than the Brookstown Inn. Your conference attendees will never forget the beauty of the former mill building. Both the indoor and outdoor spaces are like none other you will encounter; the upscale elegance of the hotel combined with the exposed brick walls original to the structure make for a memorable and usual conference location for all. The hotel rooms in the Brookstown Inn are magnificently appointed and individually decorated; no two are the same. For the frequent business traveler, The Brookstown Inn will be a welcome change from the everyday chain-hotel. The staff is pleasant and efficient and there to meet all your needs.
When planning a meeting or conference in North Carolina, do't let the chance to let AV Connections, Inc. provide your AV rentals and certainly make a point of a visit to Brookstown Inn.