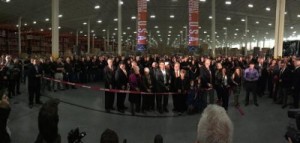 It was a big day in Advance, NC, for all of us from AV Connections, Inc. providing AV for Grand Opening of the new Ashley Furniture Corporate Plant, and for 650 people who will get jobs in this new location. Our company was founded here in North Carolina thirty years ago today. In that time, we've seen the ups and downs of the cities we service for AV rentals, each of them close to our hearts. We've watched the Triad boom, and the furniture town struggle. On this day though, we did more that set AV rental equipment up for grand opening speeches and presentations; we were able to watch some of the hard times begin to ease for North Carolina.
Ashley Furniture is the largest furniture retailer and in the United States. Their business demanded a southeast US hob, and Advance, NC is the proud new home of both the plant and the jobs that came with it. We couldn't be more pleased for both Ashley Furniture, whose success we admire, and for Advance, NC who saw it though.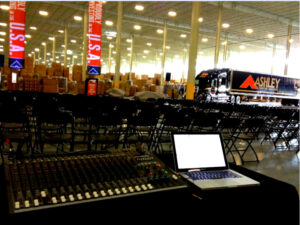 Our corporate president was pleased to receive this kind note of praise from the corporate event planner in Wisconsin who contacted us to provide the grand opening event AV on site, and we look forward to working with them again:
Hello Brad,
David did an excellent job. I was able to speak with him shortly after the event, while he was tearing down, and told him what an extraordinary event we had and the amazing job you and your team did to help create such an incredible event. You were all great to work with and very professional!
We will certainly keep you in mind for all future events. Thank you again for your hard work and helping us create an unforgettable moment in Ashley Furniture's history!
Best Regards,
Cole